Hi! Thanks for checking out our progress.
We are Moises Sanabria and Alyssa Davis.
We are developing an app as part of an independent study with Sean Cusack this semester (Fall 2012).
---
What is FLYERS?
FLYERS is a web app for announcements and events at Cooper. It will compile information from the printed flyers at school, email blasts and newsletters, and other material that the Cooper Community uses to find out about Cooper-related events. We know that you probably spend more time going to events, classes, and meetings than planning your day, which is why we would like to make the app simple to understand.
We will create three views:
Board View: Just like the flyers you see printed next to the elevators on the 1st, 5th, and 8th floor except every flyer will get its deserved real estate!
List View: A simplified list of what is happening by the hour.
Calendar View: Arrange by month or week.
But WHY?
We noticed that there is no single place online that shows students and faculty what, where, and when events are going on. We would like to solve this problem by developing a tool that shows you what is happening now. What Cooper-related information would you like to see available online or would you like to post that is currently spread only in "hard copy" or by word-of-mouth?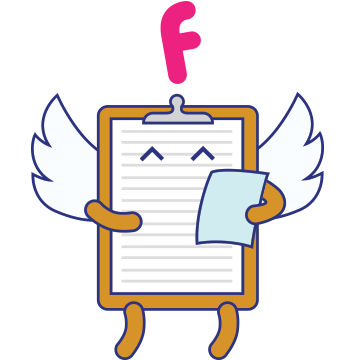 Contact Us
The reason we are making this Work in Progress site is to help ourselves keep track of our work, but more importantly, it is for you to tell where we need to improve and give us suggestions, critiques, and comments. We are making this to help the Cooper Community, so please drop us a note!
Moises Sanabria (Art '14)
sesmoi.data@gmail.com
Alyssa Davis (BSE '15)
davia317@gmail.com
Week 9
We're adding the UPLOAD EVENT form to a modal box off of the main page to minimize the number of pages. We're also going to use modal for enlarging individual flyers.
---
Images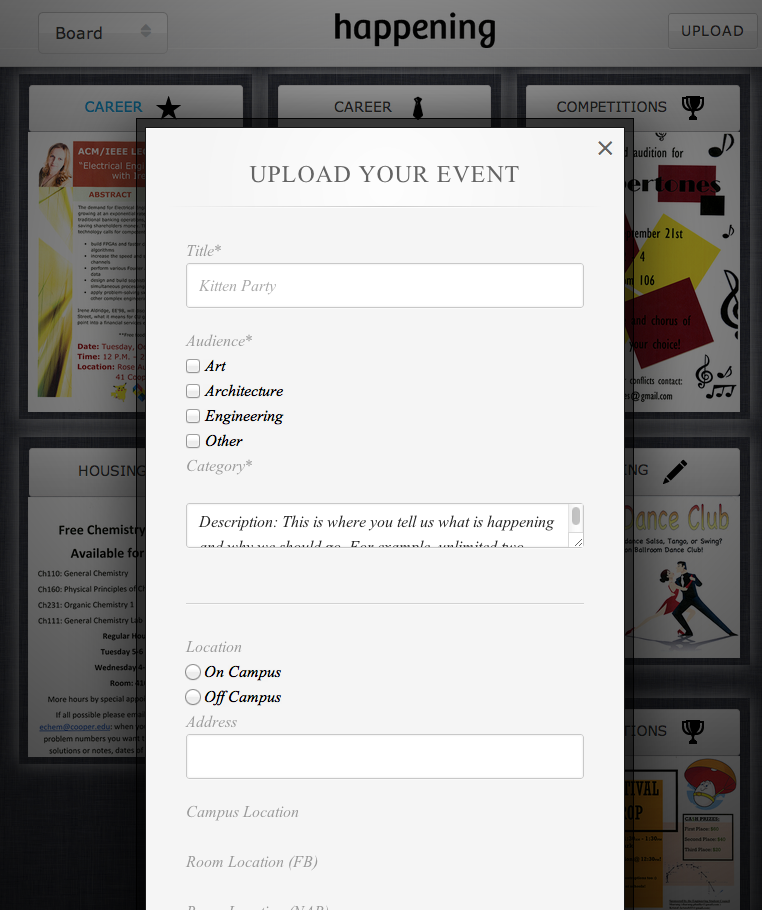 Above: For some reason the drop down options for Category etc are not working...we'll have to figure that out.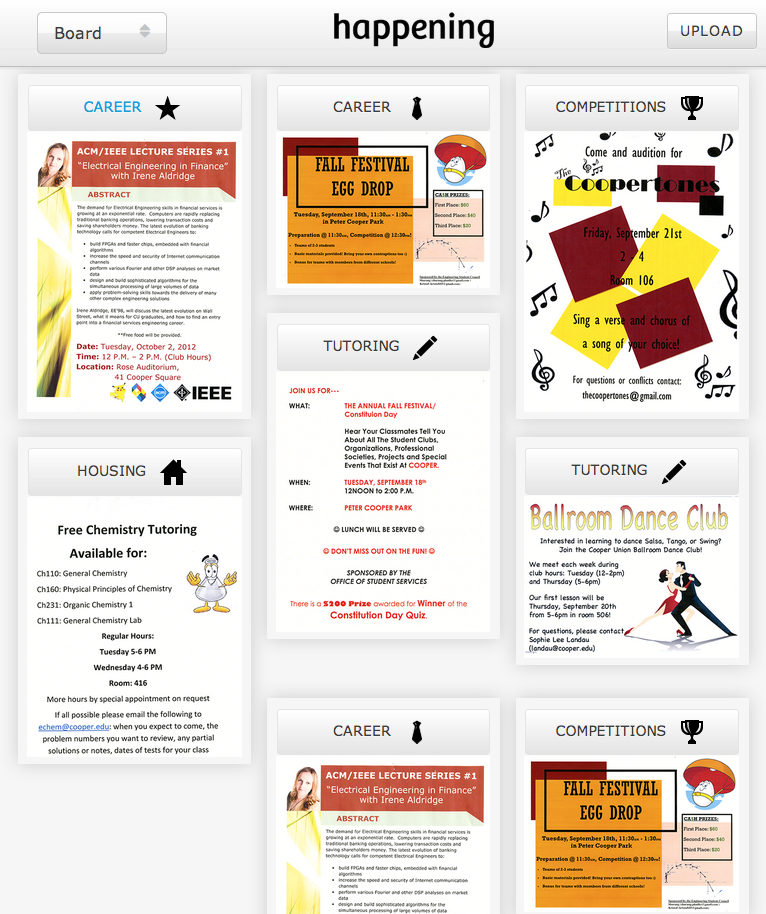 Above: Icons and category on each flyer!
Questions to Ponder
Whose senior project is about suspending time? We want to collaborate.
Week 8
This week started integrating our html/css mockups into our html/php pages that are linked to the database.
---
Images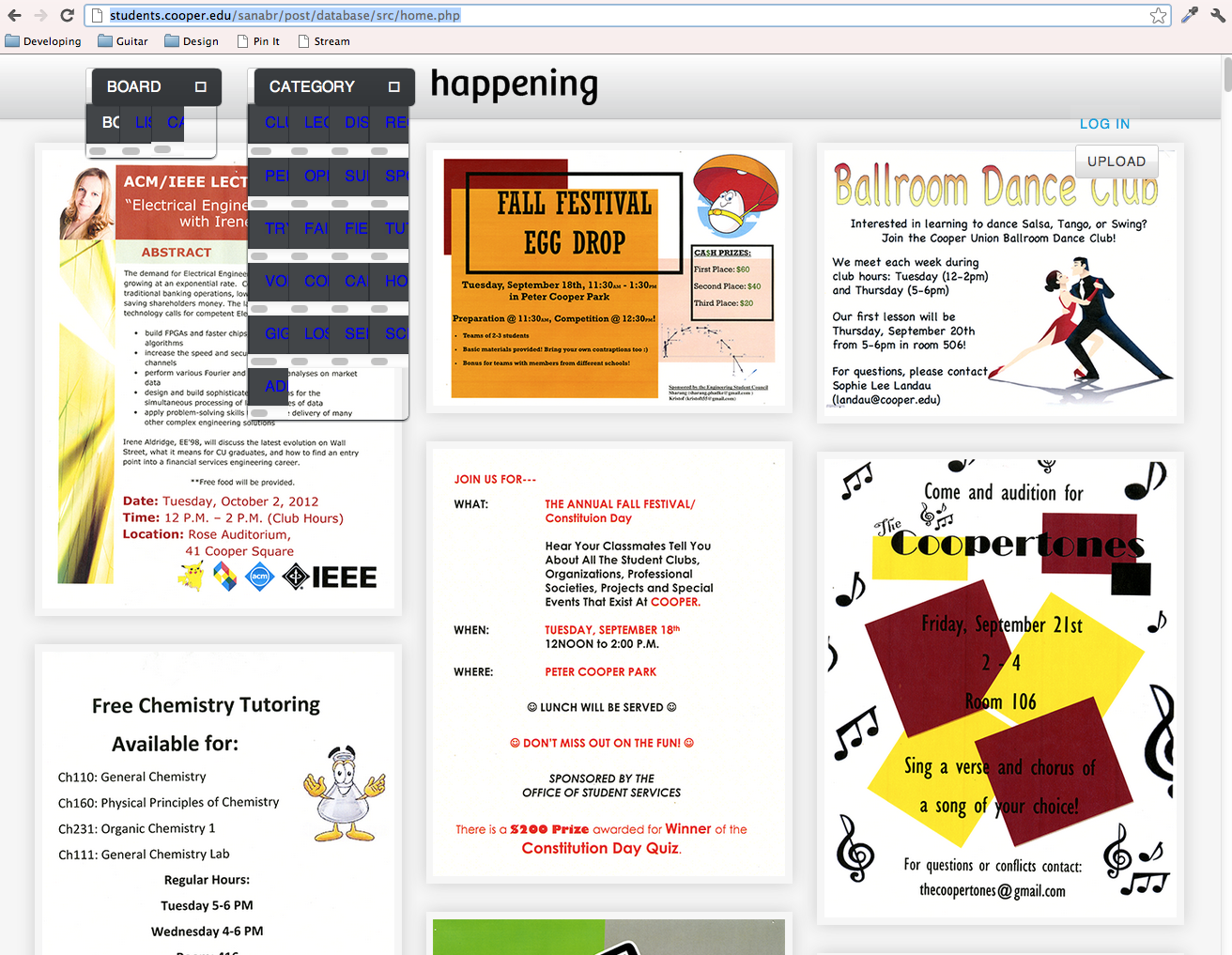 Above: As you can see, we need to fix the drop down menu for the view options and for the category options.
Check it out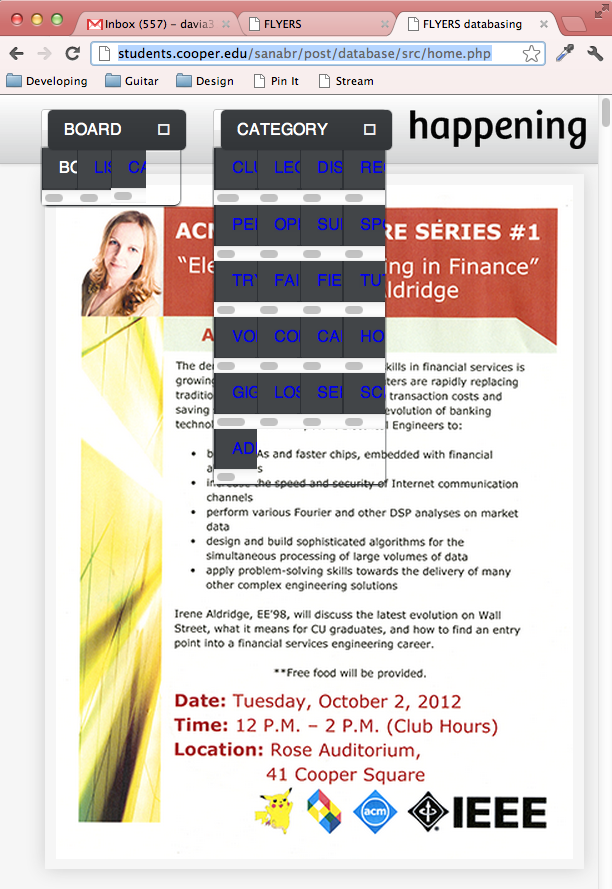 Above: Responsive design...check out one flyer at a time on your smartPhone.
Questions to Ponder
Maybe we don't need category filtering options. As long as we make the categories easy to read for each flyer, people can just visibly filter through the notices.
Week 7
Now we are able to submit information either as an admin or as 'public' (anyone who isn't an admin). The information is stored in the database and displayed on the home.php page.
---
Images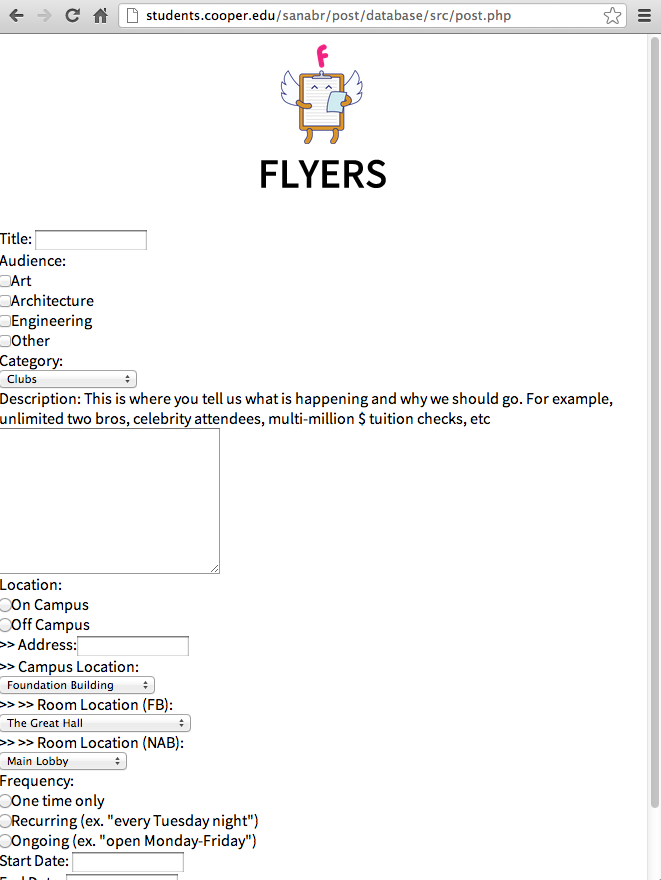 Above: Form to submit flyer info to the database.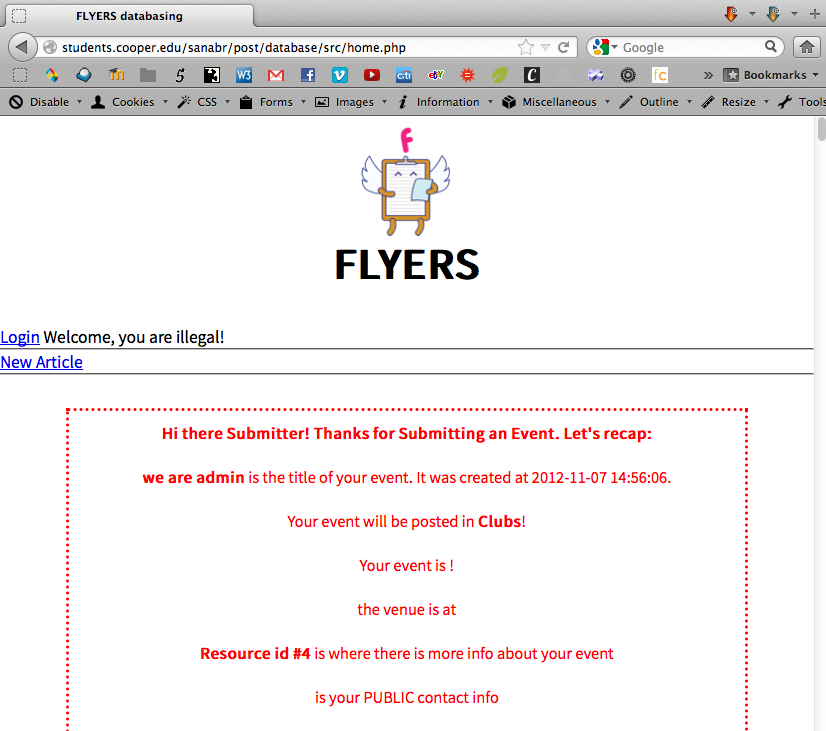 Above: Here is submitted information from the database. The red border means it was submitted by an admin, so now we just have to make the CSS more fancy and add admin icons.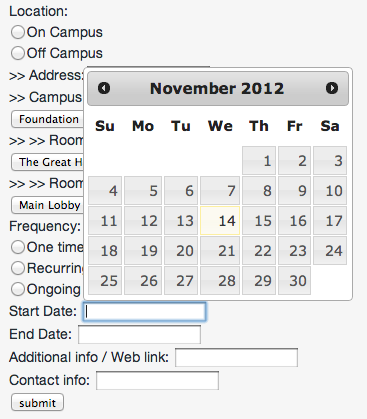 Above: Now we have to add features to the form that we had in the original html mockup, such as this calendar tool.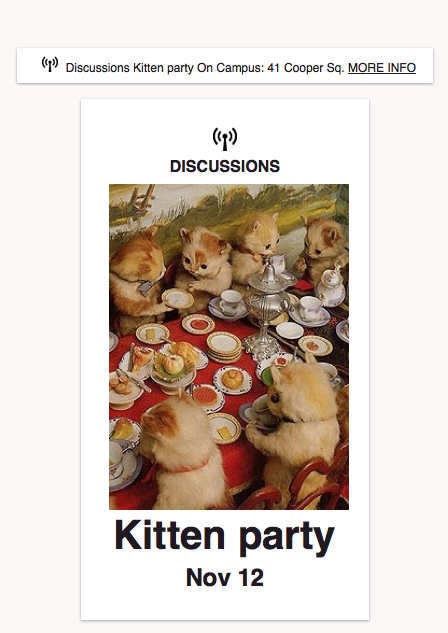 Above: We need to keep the html structure for the "flyer view" and the "list view" as similar as possible and make visual changes using CSS classes. Here we are using CSS to style the same chunk of html in different ways.
Questions to Ponder
Should we let admin submitters email blast their notices from FLYERS? We are trying to get away from email blasts, but hopefully this would be a way to aggregate all of the current email blast content on FLYERS.
Week 6
HURRICANE SANDY
---
Images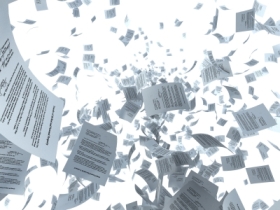 We were stuck in the dark for the week, so unfortunately, we were not able to work on flyers during the storm.
Questions to Ponder
When will the Cooper Union website be back up?
Week 5
We set up the home.php, submit.php, and login.php pages. We also browsed fancy jQuery forms but realized we were getting ahead of ourselves a bit.
---
Images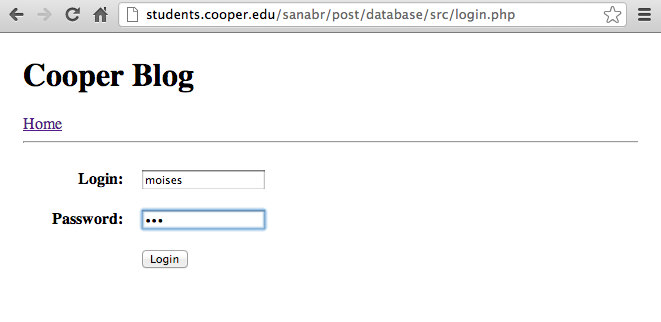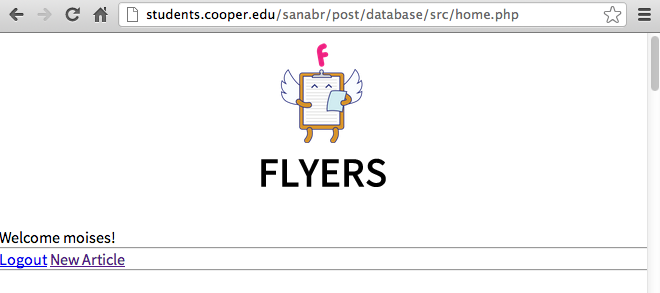 Above: Check it out, Moises can log in with his insecure, 3-character-long password!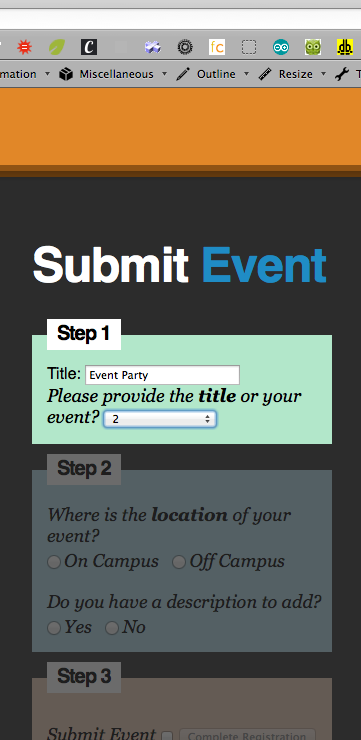 Above: testing out some jQuery...
Questions to Ponder
Who should have a secure login?
Are people going to be scanning posters they have already made, or will people start designing their posters for the FLYERS display?
Week 4
Brian Cusack taught us how to call the database, so we will be working on that. We spent a morning photographing all of the flyers in 30 Cooper Square, the Foundation Building, and the New Academic Building. We found that there are some flyers that don't fall into any of the categories we came up with, such as the "War is not the Answer" flyer.
---
Images

Above: This flyer was in 30 Cooper Square on the 2nd floor. Maybe there should be an "open posts" category on FLYERS to get an idea of the atmosphere at Cooper.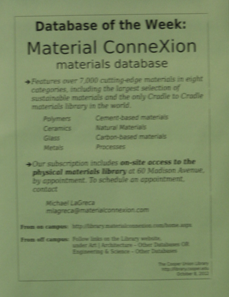 Above: We briefly talked to Carol Salomon in the CU library. She told us that the library posts "Database of the Week" flyers but that is pretty much it. They use Facebook and Twitter for outreach and announcements. We think that the library should have a presence on FLYERS so that their staff can communicate with Cooper students easily.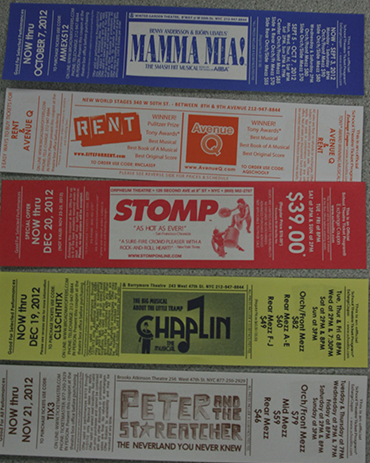 Above: We found that there are many hidden (or easily forgotten) perks to being a Cooper student. Discount tickets, free admission to MoMA etc should all be better "advertised" and easy to access.
Questions to Ponder
We realized that pretty much everything falls under either EVENT or NOTICE. Also, anything that is uploaded to FLYERS must have a deadline attached to it. Does that make sense?
Week 3
We made a mockup html form for users to upload new events and we used PHP to pull entered form data. Now we just need to pull that data into the database and call it on a display page!
---
Images
Mockups of Calendar views below (list view, daily view, 4-day view, weekly view, monthly view)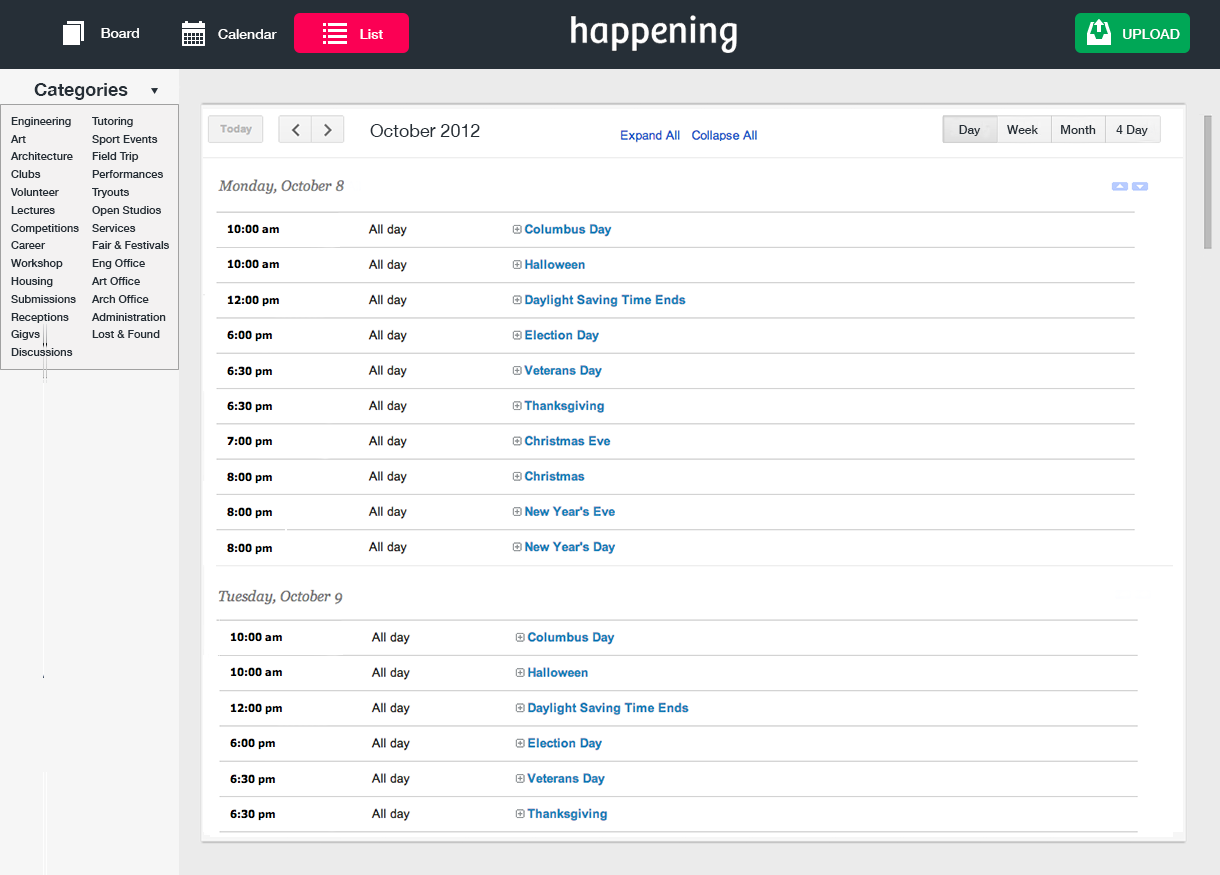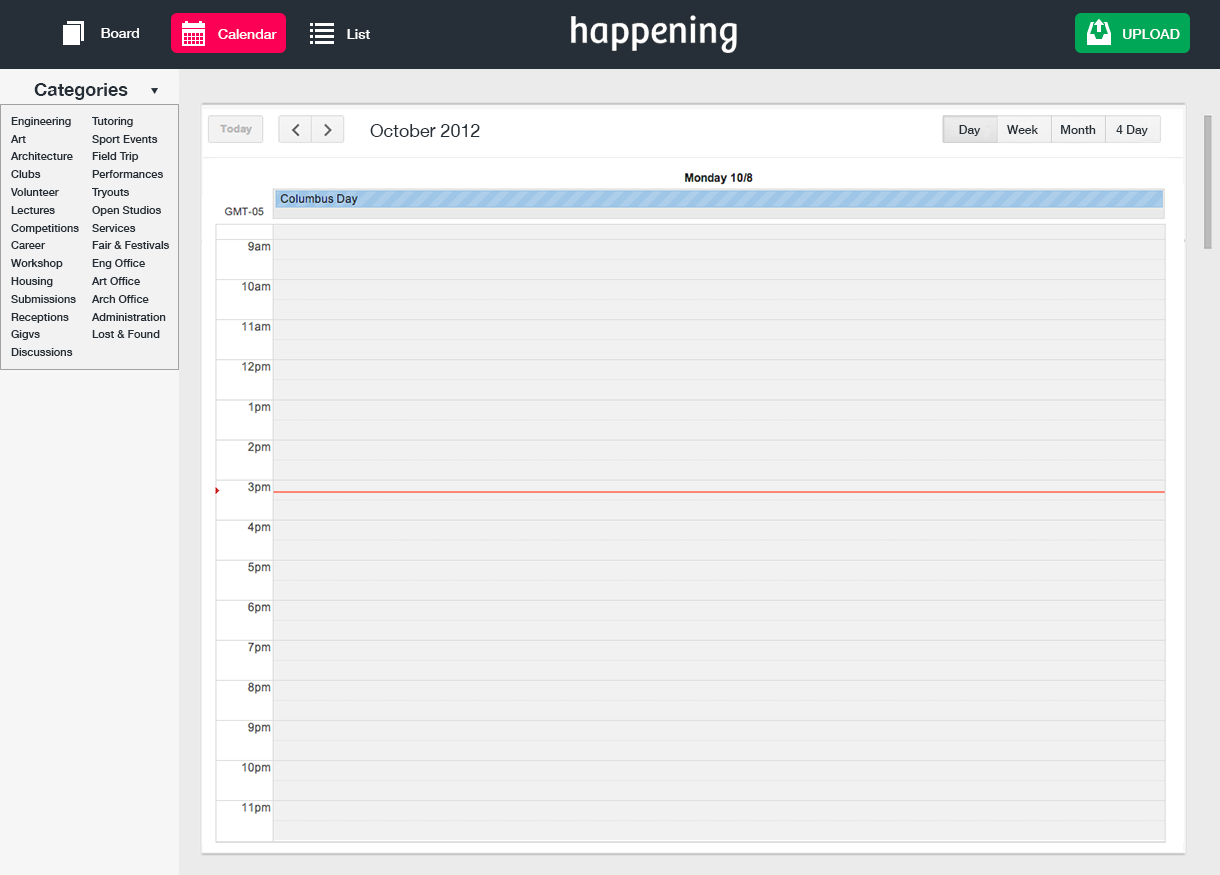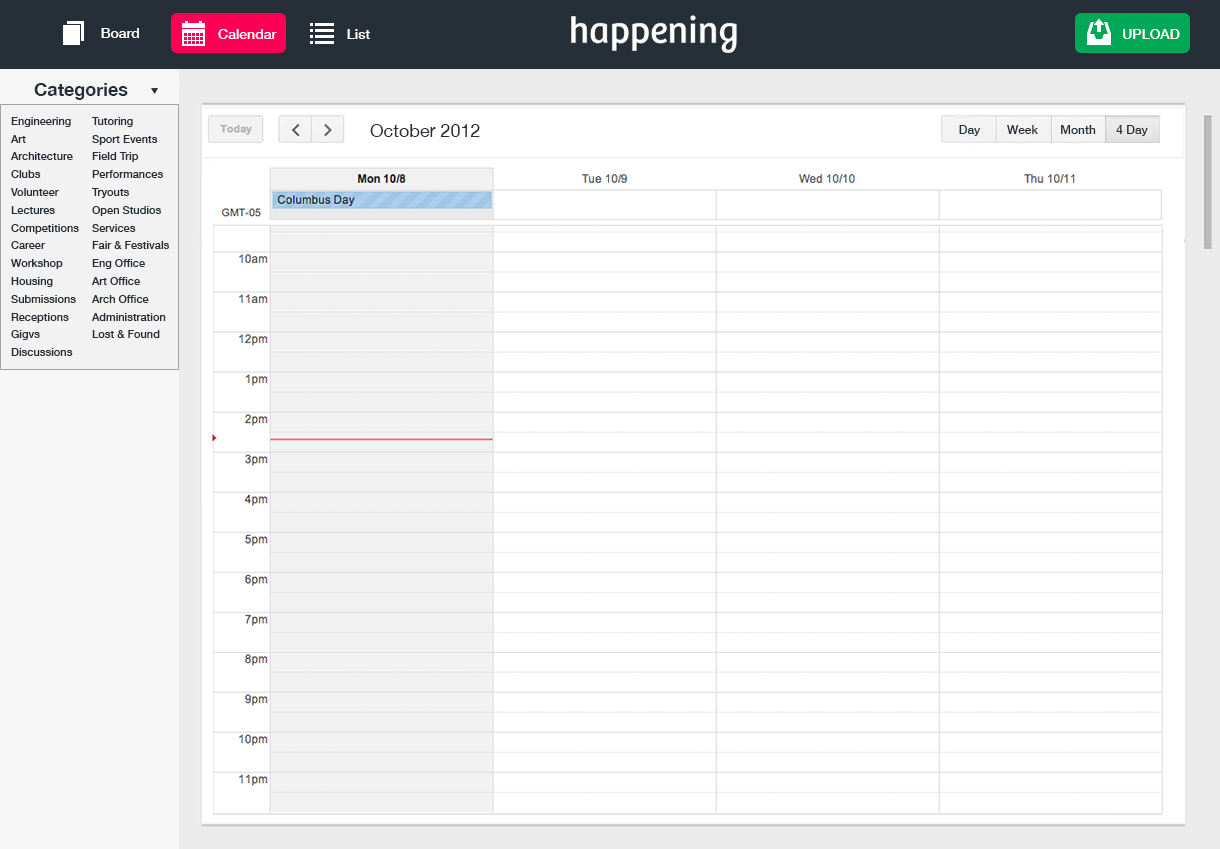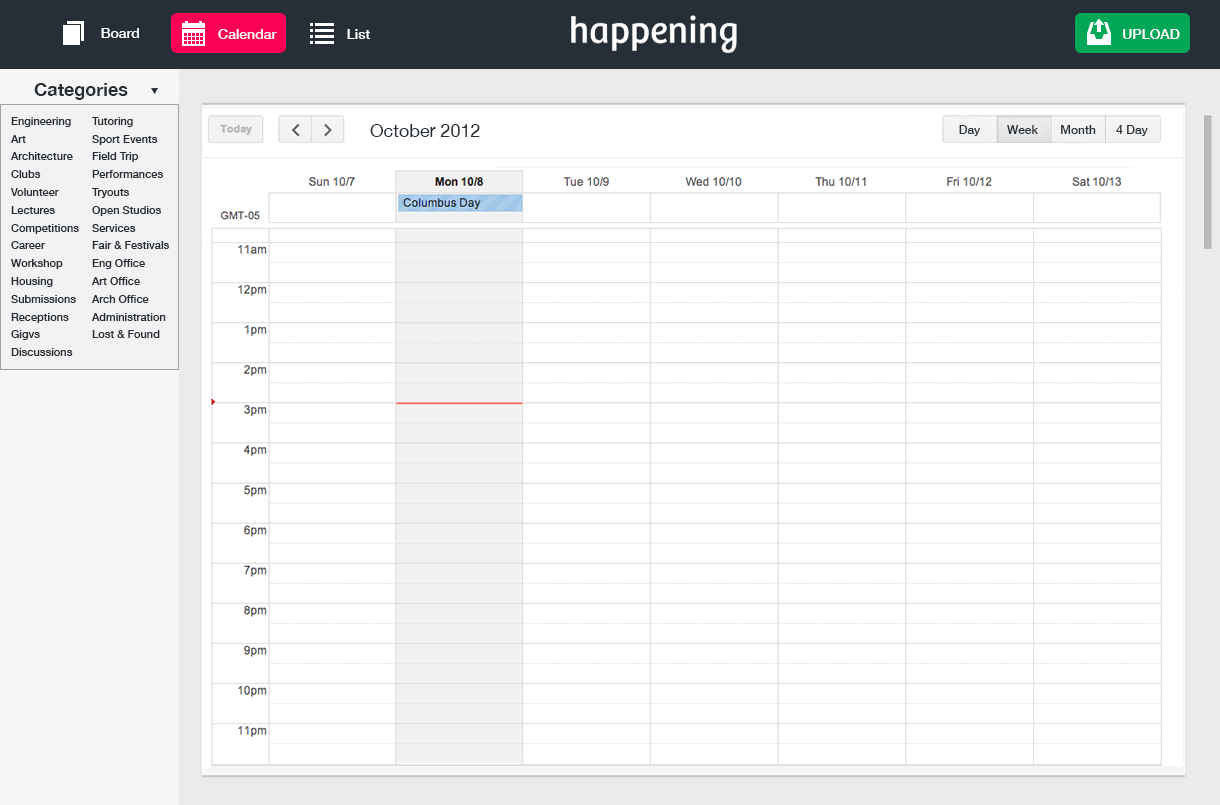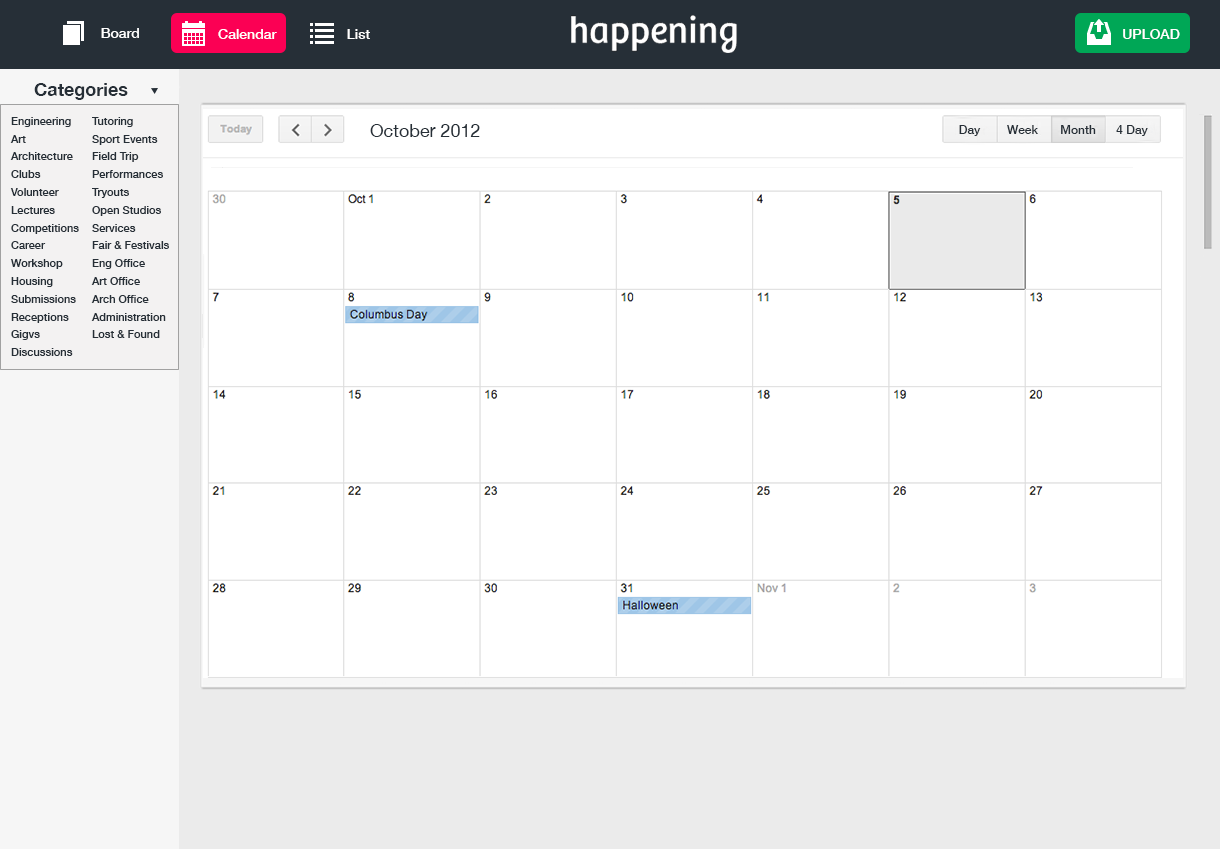 Questions to Ponder
Is it more intuitive to view categories such as Lectures, Performance, and Gigs as subsets of Art, Architecture, and Engineering or vice versa?
Week 2
We learned how to create a database and we worked on basic HTML mockups of the 'list view.'
---
Images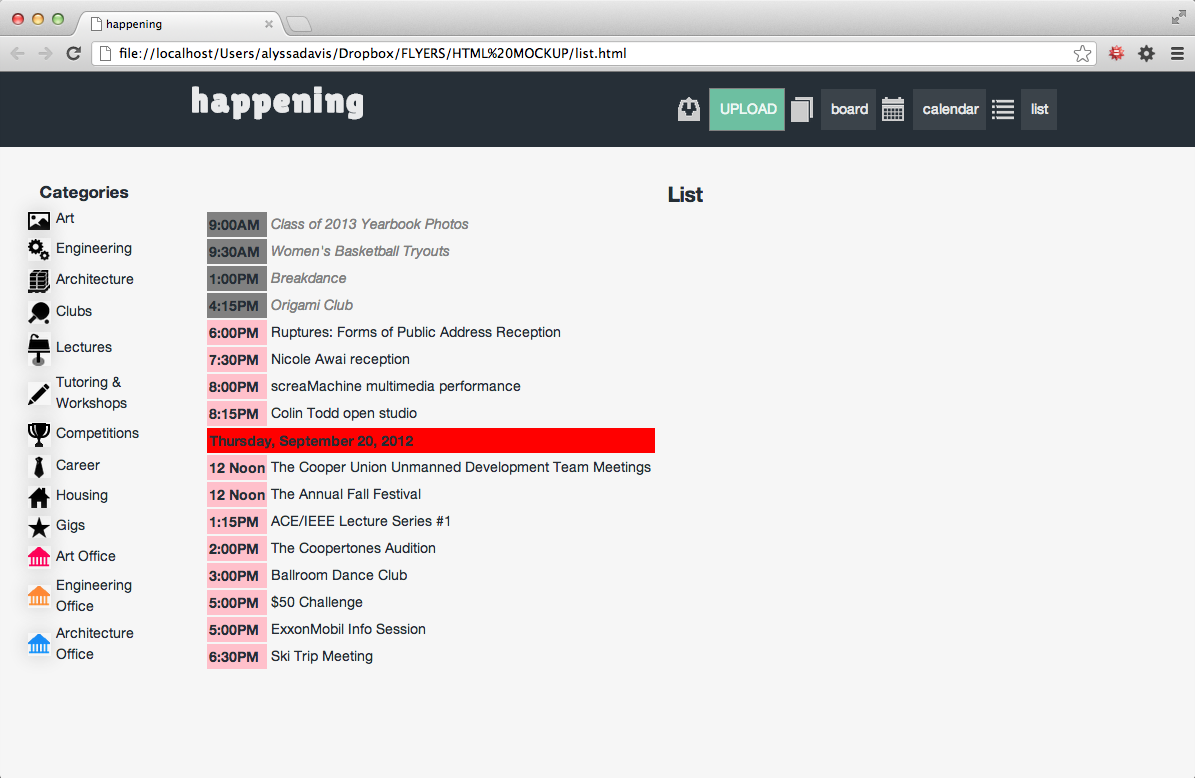 List View (WIP)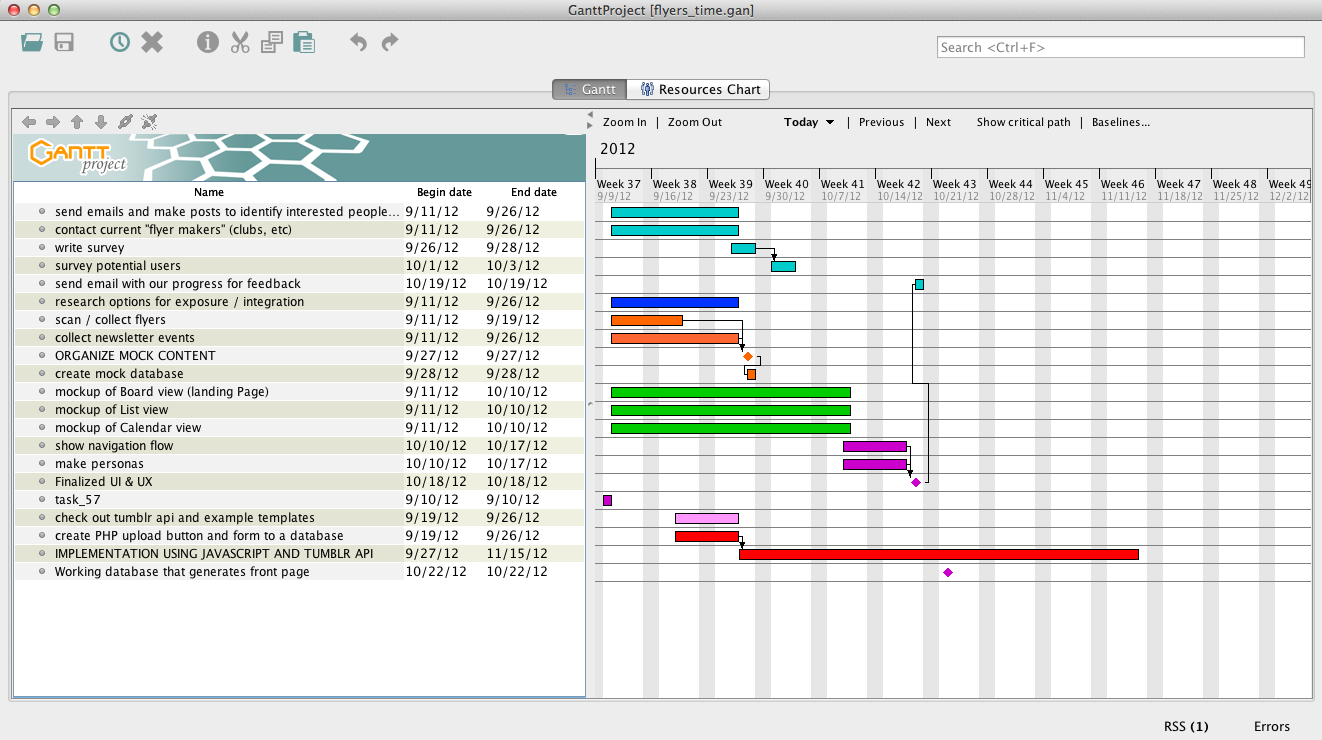 A Gantt chart is a time management tool that should help us finish our app on time...this is a snapshot of ours, though we will update it as the semester goes on.
Questions to Ponder
For the daily list view, how should we indicate what point in the day it is?
How should we create an "official category" that only the Administration, Career Center etc can post notices into?
Should the person uploading a flyer choose tags for their event since the categories are fixed?
feedback
---
Sophomore Engineering Student
He would like to know where and when there are open rooms to use for studying in between classes. Currently, that information is available on a giant schedule taped to the wall of the 2nd floor, but it would be more convenient if it was online or on his phone.
Engineering Faculty
He thinks there are too many categories on our Board View mockup.
Week 1
We created an excel sheet of content that we have found from flyers at school, newsletter emails, and Cooper notices. We worked on an HTML mockup of the Board view.
---
Images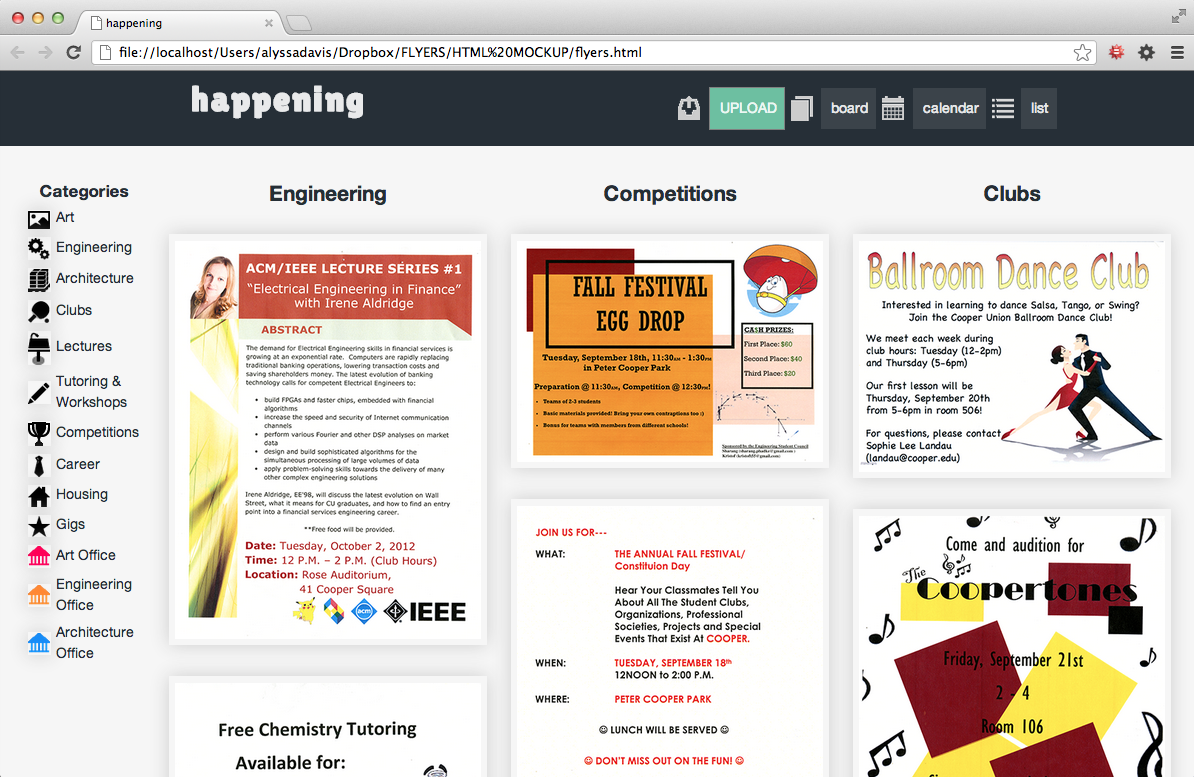 Board View (WIP)
Questions to Ponder
What do students and faculty want to know immediately about upcoming events?
This app will hold a lot of content. How can we make sure users can filter through the information easily to view only the info they care about?